Swap Long Lines for Lightning-Fast Event Check-in
Creating the best event experience should start the moment your attendees arrive onsite. With EventMobi's Event Check-in App, attendees glide through registration with a quick scan–so they can get to the action faster.
Streamline arrivals with EventMobi's Check-in App and event check-in QR codes
Check in attendees in under a second, eliminating long waits and lines
Empower attendees to check themselves in by turning any phone or tablet into a self-service kiosk
Learn More About Streamlining Event Check In
Track Attendance & Find Out Which Sessions Are Fan Favorites
Get to know attendee preferences (and score valuable programming insights!) by using EventMobi's event check-in software to track session attendance.
Scan QR codes to check guests in and out of specific sessions
Verify attendance for CE credits or professional certifications
Provide speakers and sponsors with crucial audience data
Simplify future programming decisions by measuring session popularity
Use session data from EventMobi's event check-in system to personalize event follow-up emails
Track wins and measure ROI with robust analytics
Scan Attendee Badges in Under a Second with Event QR Codes
No more searching for names in a spreadsheet or fumbling with paper lists–simply scan each attendee's unique event QR code.
Scan-and-go with EventMobi's super quick, low-touch event QR code check-in process
Use QR codes to track event and session attendance
Unlike RFID tags, event QR codes let you manage check-ins from any tablet or phone
No need to rent, buy, or train team members on special scanners or hardware
Watch the Product Tour
Check In Anyone–With or Without Their Phone
Don't let low battery life derail your event check-in! Use EventMobi's Check-in App to search by name and check in anyone who's registered for your event–even if their phone dies.
Search by first or last name to find attendee profiles in the Event Check-in App
Manually check guests in or out of your event or sessions
Stay on top of your guest list, even if attendees lose their badge or can't use their phone
Keep Traffic Flowing with Self-Service Event Check-in Kiosks
For the fastest way to handle check-ins (and manage registration desk overflow!), turn any phone or tablet into a self-service event check-in kiosk.
Use front-facing cameras to create self-service check-in kiosks
Save on staffing costs–especially for large events!
Set up your self-service kiosks in high-traffic locations to keep registration moving
Why Event Planners Love EventMobi
"It's streamlining your event data, keeping it all in one spot, and making your life as an event planner a little bit easier." Alex McRae
Senior Event Success Manager
EventMobi
See More Event Success Stories
Event Check-in Software that Fits Your Budget
EventMobi Check-In is available as part of EventMobi's Onsite Package (an add-on for single events) as well as included in all Multi-Event Annual Subscription and X365 Subscription packages.

EventMobi offers flexible check-in solutions for events of all sizes and budgets. For recommendations and pricing options tailored to your event, please reach out to us today for a custom quote.
"Being able to save time, whether it means not juggling spreadsheets…"
…or being able to adjust the schedule on the fly, and being able to communicate with people without having to run out into the hall and shout updates makes it both a less stressful experience for us as planners, and for the attendees.
Daniel Favand
Community Engagement & Website Support, Venture Out
Create the Best Event Experience with the Most Trusted Event Technology
Pair EventMobi Registration and Event Check-In Software to Make the Process Seamless
EventMobi has everything you need to create the best event registration and check-in experience for your attendees.
Create beautiful event marketing websites with unlimited attendee registrations and flexible payment options
Customizable registration forms make it easy to capture all the information you need
Registrant data syncs seamlessly with the Badge Designer and Event Check-in App
Track event and session attendance to simplify awarding CE credits and reporting on event success metrics
Learn More About Event Websites & Registration
Multi-Event Management
Provide easy access to your entire event portfolio. Drive more registrations by cross-promoting events to your members, employees, and customers.
Learn More
Event Apps
Show them everything, exactly how you want it.  With Eventmobi Event Apps, you can create an accessible, custom, feature-rich experience for your guests.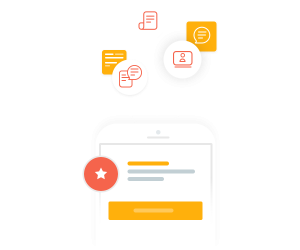 Learn More