Powered by Restream™ and trusted by over 4,000,000 streamers
The Online Event Streaming Platform Built For Event Organizers
Fully integrated with the EventMobi Event Management Platform, EventMobi Studio (powered by Restream™) is the perfect do-it-yourself solution for creating on-brand and on-budget live stream broadcasts.
Delivering Great Virtual Events is Easy With EventMobi's Live Streaming Event Platform
Intuitive Setup
Create Greenrooms, connect to webcams, and manage broadcasts with our live event software.
Simplified Speaker Invites
Rest easy with automated invites and reminder emails that give speakers one-click access to Greenrooms.
Concurrent Sessions
Assign individual event producers while ensuring consistent branding across all your concurrent sessions.
Live Studio Recording
Create quality pre-recorded content, or turn your live stream sessions into an on-demand content library.
Design & Direct Your Show Exactly How You Like It
From choosing intro music and visual overlays to deciding who should be on your virtual stage, you call the shots. Take creative control while EventMobi Studio, your browser-based online event streaming platform, does the hard work for you.
Highlight Your Event Sponsors With Branded Live Stream Sessions
Use overlay graphics and logos to create impactful brand exposure for your sponsors throughout the live stream show
EventMobi's live stream event software lets you treat lower thirds and captions as digital real estate for sponsor ads or giveaways
Drive traffic to sponsor booths and demos using reminders in your live captions!
The Right Tools to Live Stream Events Online
Design & Brand Your Live Stream Broadcasts
Use preset or custom visuals for your theme, lower thirds, overlay images & logos in your live Event App.
Change Your Layout Selection With One Click
Easily switch between 6 different live video feed layouts with smooth, readymade transitions.
Use Animated Transitions & Backgrounds
Choose from pre-set transitions and backgrounds in our live streaming event platform or upload your own.
Set The Mood With Background Music
Choose from a selection of royalty-free music files to create an event soundtrack.
Manage Video Quality
Set the video resolution for individual speakers, or for all video sources at the same time.
Control Audio Volume
Adjust speaker mic volumes, or use a built-in AI audio mixer to reduce background noise.
Enable Screen Sharing
Allow speakers to share slides, videos and other media for engaging and interactive presentations.
Play Pre-Recorded Content
Upload presentation videos in advance to minimize reliance on speaker internet connections.
Speaker Management is Effortless With Virtual Greenrooms
Invite an unlimited number of presenters to your speaker list
Easily live stream events online by allowing up to 10 video feeds on the screen at a time
Make it easy for speakers to join with a single click right from their browsers
Run rehearsals right inside the live streaming event platform so your speakers are fully prepared
The Studio is also your greenroom where you can chat privately with your speakers on and off screen
Engage Your Audience With The EventMobi Studio Live Event App
Share custom on-screen messages to drive attendee actions
Use captions for hashtags, event game codes, Q&A, sponsored giveaways, messages, and more
Spotlight selected attendee chat comments right on the live stream screen
Use screen share to create excitement by showing poll results in real time with our live event software
The Virtual Show Flow Template
Creating on-brand, on-budget virtual events is easier than ever with EventMobi. Broadcast fully branded, professional live stream sessions in seconds, right inside our online event streaming platform.
Get started by downloading our free Virtual Show Flow Template, a downloadable template you can use to build your run of show as you plan your next virtual event.
Download the Free Template
Create The Best Event Experience With The Most Trusted Event Technology
Event Apps
Show them everything, exactly how you want it.  With Eventmobi Event Apps, you can create an accessible, custom, feature-rich experience for your guests.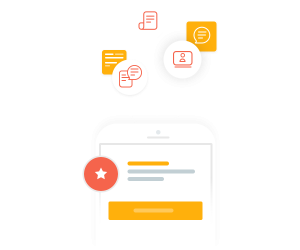 Learn More
Virtual Events Platform
EventMobi's professionally managed, end-to-end online events solution has everything you need design personalized attendee experiences, online & in-person.
Learn More