Create Beautiful, Branded Event Registration Websites
EventMobi's event registration platform makes it easy to design fully branded, mobile-ready event websites that offer your audience the right registration experience.
Works for in-person, virtual and hybrid events
Manage room blocks, multiple locations, and volume discounts
Flexible forms and payment processing
Fully integrated with EventMobi's Event Management Platform
Save Time With Email Marketing and Automated Emails
From customized email invites to confirmation emails and waiting list updates, EventMobi's event registration system lets you automate all of your registration communications.
Easy set-up with customizable templates
Automate emails for every step of the registration process
Create custom email campaigns with filters and scheduling options
Personalize your sender email addresses
Add to calendar links and document sharing
Event Registration and Management Tools
Multiple Languages & Timezones
Select unlimited languages from a list of 19. Automatic timezone detection helps attendees build their agendas with ease.
Multi Step Registration & Approvals
Set up different registration categories and options with specific rates. Use pre-registration for screening and approvals.
Attendee & Session Management
Create waiting lists & segmented lists for different attendee types. Add unlimited sessions with the date, time and location.
Custom Profiles & Access Roles
Create custom admin roles and user permissions to control who can access which sections of the registration backend.
Analytics & Transaction Dashboards
Monitor and manage all payments and transactions, and report on registrant statistics from easy-to-use dashboards.
Off-the-Shelf and Custom Integrations
An extensive library of existing integrations plus an open API lets you connect with virtually any software system you use.
Integration FAQs
Customizable Online Event Registration Forms as Simple or Complex as You Need
Create custom registration forms for your in-person, virtual and hybrid events with EventMobi's event registration app.
Editable forms with unlimited fields, drop-down menus & multiple choice
Conditional fields control what fields are displayed based on responses
Choose from list, table and calendar views for your events and sessions
Manage multi-ticket and consecutive registrations
Learn How to Create a Hybrid Event Strategy
Keep Control of Your Data with EventMobi's Event Registration Platform
Your online corporate event registration data is secure, as EventMobi's data centers fulfill the highest-standard requirements in the world. Certifications include:
Learn More About Data Security
Flexible Event Registration and Payment Processing
EventMobi's event registration and payment system simplifies payment processing and ticketing.
Offer discounts as a percentage or currency amount
Connect to your preferred payment gateway
Collect payments from any credit card or set up invoices for wire transfers
Customize tax rates
Automated registration close date and time
Generate financial documents and reports
Simplify Reporting with EventMobi's Event Registration and Ticketing Software
Get instant access to all your online event registration data to help create the best event experience for your attendees.
Registrant type and status
Registrants per session
Device used to register, and the country/region of origin
Event and session capacity
Learn How Event Management Software Simplifies Reporting
Event Registration Tool Pricing
Website, Registration, Email Marketing
Choose a per event DIY license or annual unlimited events license with no restrictions on the number of admins and registrations.
Registration Full Service Design & Build
Let EventMobi take care of your Registration Website configuration and custom design & data upload. Includes two rounds of review.
Bundle Full Service Design & Build

Create a Seamless Registration, Badging, and Event Check-in Experience
Your registration data syncs with EventMobi's badge design and event check-in software to create a seamless guest arrivals experience.
Design branded conference badges for different groups with just a few clicks
Select standard badge sizes or go fully custom
Scan pre-printed or digital badges from attendee Event App profiles
Use any iPad or tablet to check-in attendees to your event and sessions
Learn How to Create the Best Event Check-in Experience
Promote Your Event Sponsors Across Your Registration Website
Your Event Registration Website offers exciting opportunities to drive brand awareness and engagement with your sponsors from the moment it goes live.

Download the Sponsorship Strategy Guide to learn how to create, package, and price sponsorship assets for your in-person, virtual and hybrid events.
Download the Free Sponsorship Strategy Guide
Create the Best Event Experience with the Most Trusted Event Technology
Event Apps
Show them everything, exactly how you want it.  With Eventmobi Event Apps, you can create an accessible, custom, feature-rich experience for your guests.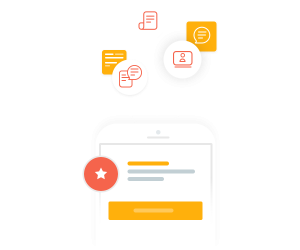 Learn More
Virtual Events Platform
EventMobi's professionally managed, end-to-end online events solution has everything you need design personalized attendee experiences, online & in-person.
Learn More