A Drag & Drop Badge Designer Built for Event Organizers–Not Graphic Designers
You don't need a Creative Director to knock your event name badge design out of the park. EventMobi's drag-and-drop Badge Designer is built for event organizers with little-to-no design experience.
Design event badges in minutes with a drag-and-drop tool
Choose between standard and fully custom badge sizes
Upload custom graphics for badges that are 100% on-brand and on-theme
Bye, mail merge! Your registration data seamlessly syncs with the Badge Designer
Add, edit, and rearrange elements to bring your design to life in just a few clicks
Learn More About EventMobi's Badge Designer
Create Personalized Badges at Scale for Different Groups of Attendees
Forget spreadsheets—create badges for the attendee groups you've already added to your event space! EventMobi's event management software syncs with your registration platform so you can create custom badges at scale for different groups.
Tailor badge designs for different attendee types
Easily manage badging for speakers, staff, attendees, VIPs, and more
Personalize badges with the brand assets you've already uploaded into the EventMobi Experience Manager
Export up to 20,000 badges at once for convenient pre-printing
Kickstart Your Creativity with Event Badge Design Templates
No graphic design budget? No problem! EventMobi's pre-built badge templates offer the perfect starting point for your own event or conference badge designs.
Cut design hours by starting with an event badge design template
Customize any template with your organization's branding and creative flair
Create industry-standard designs with suggested font sizes, logo placements, and dynamic fields
Watch the Product Tour
Use Any Printer for Convenient, Budget-Conscious Event Badge Printing
Print your event badges, your way. Finalize your badge design in EventMobi's event badge printing software and send it to your printer of choice–whether that's the desktop printer in your office or your local print shop.
Download your design as a PDF for cost-effective, DIY badge printing
Metric or imperial? Badge Designer supports both–as well as different paper sizes for printing
Email badges to your attendees ahead of the event for the added convenience of at-home printing
Offer a White Glove Check-in Experience with an Onsite Badge Printer
Need onsite badge printing for your large event? EventMobi's fully-managed Live Badge Printing solution includes onsite badge printing software and kiosks for the sleekest branded badging experience possible.
Set the tone for your event with premium, on-demand badge printing
Provide lightning-fast, hassle-free check-in by printing at the registration desk or with self-service badge printing kiosks
Customize the look and feel of your badges with different sizes and materials (including matte, glossy, and biodegradable options)
Accommodate late registrations and last-minute walk-ins without missing a beat
Watch the Product Tour
Break Up Bottlenecks with Self-Service Badge Printing Kiosks
Checking in shouldn't make attendees check out. With EventMobi's event check-in and badge printing software, self-check-in kiosks mean less standing in line–and more time to enjoy your event.
Centralize your attendee experience with branded, self-service badge printing kiosks
Choose from various badge sizes and materials (including biodegradable!) for your unique badge design
Use custom-branded totem kiosks, table-top check-in stations, or self-check-in kiosks
Flexible Solutions for Everything You Need: Event Badge Design, Printing, Check In & More
With EventMobi, you get access to all the tools you need for running incredible events–from registration and badging, to post-event analytics.
Drive event registrations with a branded event website (designed for you!)
Simplify badging with EventMobi's drag-and-drop Badge Designer and DIY printing options
Create the ideal check-in experience with EventMobi's Check-in App, QR codes, or branded self-service kiosks
Engage attendees with Live Polls, Activity Feed, Networking, Interactive Maps, Social Wall, and more
Attract and impress exhibitors and sponsors with EventMobi's Lead Capture App and Gamification
Leverage Advanced Analytics to showcase event ROI and wins for different stakeholders
Why Event Planners Love EventMobi
"Once your event space or home page is designed, it's the natural next progression to have those same assets–and the same look and feel—applied to your badge itself." Soma Su
Senior Event Success Manager
EventMobi
See More Event Success Stories
Pricing and Packages for Any Budget
The Badge Designer is available as part of EventMobi's Onsite package (as an add-on for single events) and is included in all Multi-Event Annual Subscription and X365 Subscription packages.

Premium Live Badge Printing starts as low as $15 per attendee, and varies based on hardware choices, materials, and event size. Please get in touch with us today for a custom quote based on your requirements.
Create the Best Event Experience with the Most Trusted Event Technology
Pair EventMobi Registration and Event Check-In Software to Make the Process Seamless
EventMobi has everything you need to create the best event registration and check-in experience for your attendees.
Create beautiful event marketing websites with unlimited attendee registrations and flexible payment options
Customizable registration forms make it easy to capture all the information you need
Registrant data syncs seamlessly with the Badge Designer and Event Check-in App
Track event and session attendance to simplify awarding CE credits and reporting on event success metrics
Learn More About Event Websites & Registration
Multi-Event Management
Provide easy access to your entire event portfolio. Drive more registrations by cross-promoting events to your members, employees, and customers.
Learn More
Event Apps
Show them everything, exactly how you want it.  With Eventmobi Event Apps, you can create an accessible, custom, feature-rich experience for your guests.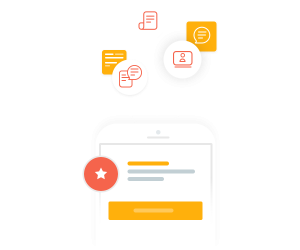 Learn More