A Single Event Management Software Platform With Limitless Possibilities
Manage all of the technology your participants interact with and more from one easy-to-use event management software platform.
Build and Manage In-Person, Virtual & Hybrid Events in One Place
Marketing & Registration
Email invitations, collect registrations, create badges, and check-in attendees with a single platform.
Connect Your Tech Stack
Automatically sync data with your tech stack using off-the-shelf integrations or Zapier.
All-in-One Platform
When you build your mobile event app, you're also building your virtual and hybrid event space.
Live Streams & Video
Create session live streams in seconds and build customized video libraries of evergreen content.
Entertain and educate your audiences with an end-to-end interactive audience response system.
Networking
Connect different event stakeholders with in-person appointments and video meetings.
Sponsorship
Offer sponsors measurable brand promotion opportunities across the event platform.
Analytics
Track and report on in-person and remote attendee interests, engagement, and actions.
Get up and Running in no Time
Our straightforward workflow lets you spend less time on administration and more time on attendee engagement.
Read More in Our Blog
Powerful design and customization tools ensure everything attendees interact with reflects your brand.
Event Branding and Design
Consolidate Your Event Data
Quickly gather real-time analytics and reports to easily measure event and sponsor ROI and inform future planning.
Event Analytics
The Sponsorship Strategy Guide
With the rise of virtual and hybrid events, today's sponsors are becoming more discerning in the opportunities they choose to invest in. In this guide, we will show you how to create, package, and price sponsorship assets for your in-person, virtual and hybrid events.
Download the Sponsorship Guide
"It really helped engage our attendees"
The CSAE gamification challenges really helped with engaging our attendees. We designed it in a way that encouraged attendees to interact with each other in order to collect points. We had over 80 people playing the game throughout the conference—which went way beyond my expectations.
Rachel Lyon
Canadian Society of Association Executives
"The event was a great success"
Our event would not have been the success that it was if it wasn't for the support of EventMobi and using their fantastic software. It was so easy to use, so user-friendly and our attendees, sponsors, speakers and stakeholders absolutely loved using it. We were really able to customize, change it up, switch it up and really just go outside the box.
Mallory Lloyd
Humane Canada
Create the Best Event Experience with the Most Trusted Event Technology
Event Apps
Show them everything, exactly how you want it.  With Eventmobi Event Apps, you can create an accessible, custom, feature-rich experience for your guests.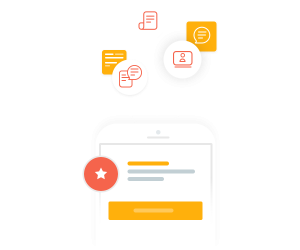 Learn More
Hybrid Events Platform
Engaging two audiences is easier than ever. EventMobi's Hybrid Event Platform makes it easy to design unique and shared event experiences for your attendees, on-site or online.
Learn More