6 Amazing Event App Designs to Inspire you
2018 has been a pretty impressive year in the world of design. Microsoft recently rolled out new logos for their Office Suite. The World Cup 2018 saw all 32 teams with new kit designs, and furniture companies such as IKEA released products introducing clever space saving designs for urban living. What's clear is that brand recognition and simple, sophisticated product design matters more than ever across all industries, and the event technology space is no different. We asked our Customer Experience team to reflect on some of the amazing clients and app designs they've seen this year. Here are the top 6 best event app designs of the year.
1) 2018 OFA Annual General Meeting

Organization: Ontario Federation of Agriculture

The Design Vision

"When we designed this event app, we put a lot of focus on the visual aspect of the app and aimed to create an experience that was fresh and vibrant for our users. We wanted it to be eye-catching, but also work within our branding. Therefore, we made a conscious effort to select specific images that meshed well with the color scheme, showcased our industry, and highlighted the theme "Prosperity Grows Here."

Overall, our favorite feature on EventMobi's event app is the widget layout. The ability to take one photo and spread it across all six widgets really helped pull the event app together and make the selected image visually prominent."  

– Tyler Brooks, Director of Digital Communications @ Ontario Federation of Agriculture

Why We Love It

"This app really stood out to me because of its use of our Advanced Designer product. Modifying the widgets to create an innovative menu and using the background to help match their event theme and organization really helped elevate this app's branding."

– Rebecca McDougall, Director of Customer Experience @ EventMobi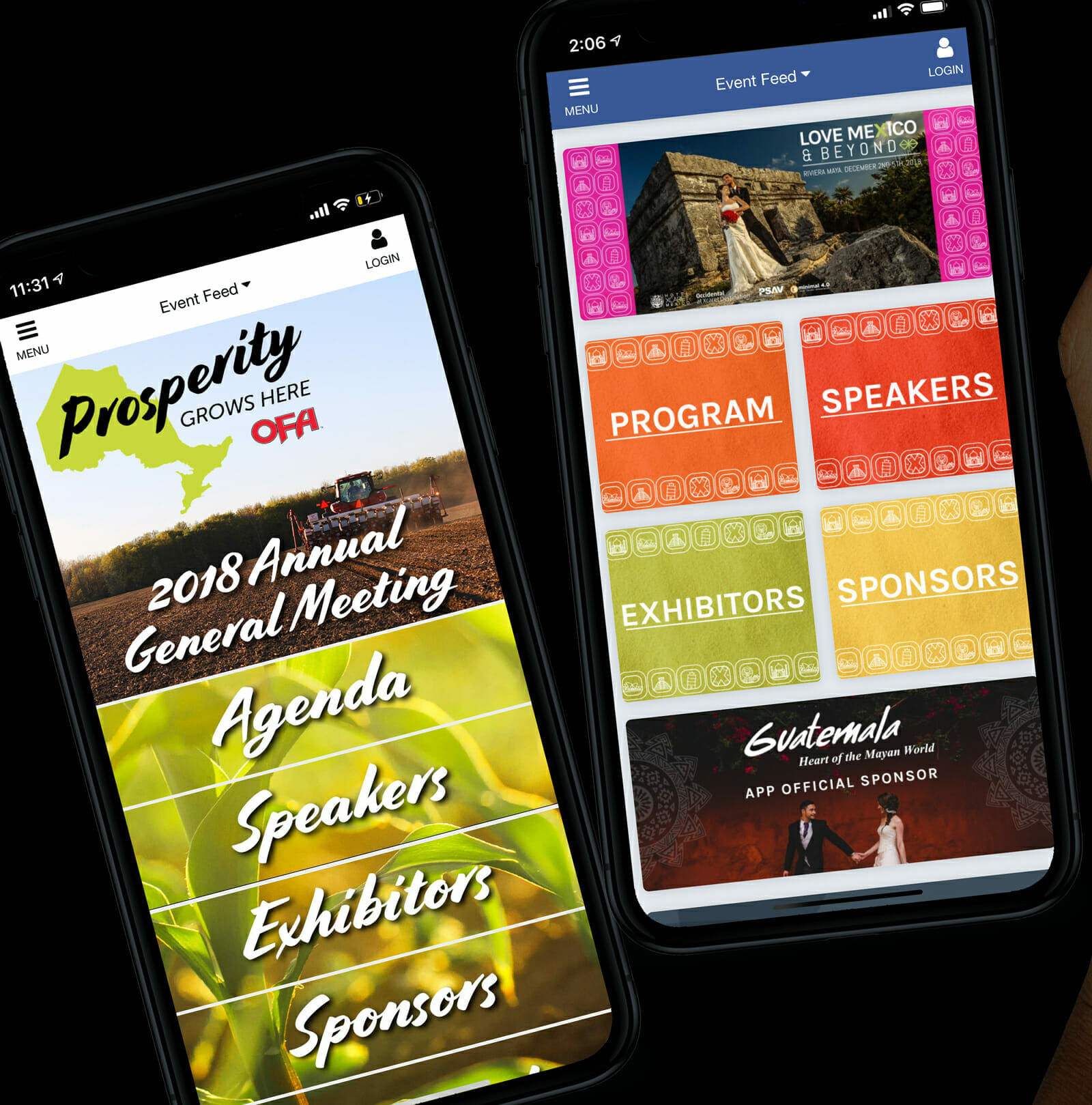 2) Love Mexico & Beyond Event

Organization: International Association of Destination Wedding Professionals

The Design Vision

"We loved the modular design of the event app, it gave the attendees the possibility to have all the important information accessible at the tip of their fingers."

– Pilar de Alva, Marketing Manager @ IADWP

Why We Love It

"With a couple of clicks, our clients can customize their solution capturing the essence of their brand and making technology a cohesive part of their whole event concept. These events did a particularly great job at this."

– Vander Guerrero, VP of Customer Experience @ EventMobi
3) Crisp Game Changers Summit

Organization: Crisp Video Group

The Design Vision

"When designing the app for our event, our goal was to create an engaging in-app experience for our attendees. We felt that by creating a design that was colorful, cohesive, and aligned with our company and event branding would help us accomplish that goal, and we were right! We received a ton of positive feedback on the event app and saw incredible engagement during our two-day conference.

Our favorite part about the design would probably have to be the nontraditional module backgrounds that captured the eye and generated excitement."

– Hannah Doksansky, Content Strategist @ Crisp Video Group

Why We Love It

The thing that made this event app stand out to me was their bold colors and design. They did a fabulous job highlighting key components of the event app such as their gamification that was highly used as their main app icon at the top of the app! Very impactful!

– Dory Kashin, Manager, Event Success @ EventMobi
4) Health Innovation Summit

Organization: Oliver Wyman

The Design Vision

"What was great about the design of our event app was that it encompassed the full theme of our Summit – it was great to add the that level of detail to our app!"

– Ashley Cate, Senior Project Coordinator @ Oliver Wyman

Why We Love It

"Amazing use of color that captures our attention right away. It feels fresh, on trend, and invites app users to features and content that will help them engage with the event."

– Caitlan Davidson, Senior Support Operations Lead @ EventMobi
5) Luxury Specialist Event

Organization: Christie's International Real Estate

The Design Vision

"In 2018, Christie's International Real Estate was honored to host its Luxury Specialist event in New York City. The event app design nods to the architectural significance of the iconic location, Rockefeller Center. We loved that the widgets worked together on a grid system, allowing us to puzzle together a more inspiring perspective of the area. From presenting our branding in the app store, all the way up to the post-event survey experience, Eventmobi provided an opportunity to leverage our branding from start to finish."

-Sara Rutter, AVP, Creative Director at Christie's International Real Estate

Why We Love It

"I love this event app design because it's beautiful, but also because it really reflects the Christie's brand! They did a great job at using the design capabilities in the EventMobi Experience Manager platform to reflect their style."

– Michelle Ignatavicius, Event Success Manager @ EventMobi
6) XXV Congreso Centroamericano y del Caribe de Avicultura

Organization: Avicultura

The Design Vision

"The event app for the XXV Congreso Centroamericano y del Caribe de Avicultura (Central American and Caribbean Poultry Industry Congress) marked an important milestone for this regional event since it was the first time that a mobile technology tool was used to encourage interaction between organizers and attendees.

The professional and sober aspect of the widgets, including images alluding to the event, ended up being very attractive to the eye and facilitated the use of the event app. We trust that the following EventMobi event app editions will continue to be beneficial."

– José Quan, CEO Eventia Honduras @ Avicultura

Why We Love It

"This event app has a clean and consistent design, aligned with the corporate image of the event. The widgets clearly highlighted the most important areas of the event"

– Carolina Campos, Event Success Manager @ EventMobi
Recommended Resource: We've put together a selection of amazing event app designs to inspire you. Check out the best event app designs we've created for our clients!