The Best Virtual Conference Designs to Inspire Your Next Online Event
One of the benefits of virtual events is that they offer great opportunities to put your brand front and center. In order to take full advantage of this option, it's important to choose a highly customizable virtual conference platform. With our advanced design features, EventMobi's Virtual Conference Platform gives you the power to create the branded home screen design of your dreams.
How to create a great design using your virtual conference platform
The perfect design for your virtual conference should aim to cover the following points:
Welcome your attendees with a beautiful home screen design that sets the tone for your event
Showcase your brand by use of logos, colors and fonts
Use a cohesive design across (home screen, menus, branded video content)
Insert images and graphics that highlight your event's topic
Create visual interest by thinking outside the box, e.g. by using bold colors, interesting patterns and shapes, or animated GIFs
Don't have graphic design skills or a dedicated designer on hand? EventMobi's team can help you with our design templates and custom design services!
Get inspired by our best customer designs!
To help inspire you, we have compiled some of our favorite examples of great virtual conference designs created with the EventMobi platform over the past year. With over 106,000 hours of online events supported since April 2020, there were many incredibly creative options to choose from. Check out these amazing designs from our customers:
Event: National Operations 2021 CYP Kick-Off
Customer: Shoppers Drug Mart
Why We Love This Design: Consistent use of brand colors across the virtual conference platform, a background image creating anticipation for a great show, and the different shapes and arrangement of widgets creating visual interest
Event: The Atelier Digital 2020
Customer: The Atelier Collective
Why We Love This Design: A playful and feminine design that perfectly reflects the brand identity, mixing banners and widgets for a visually interesting home screen experience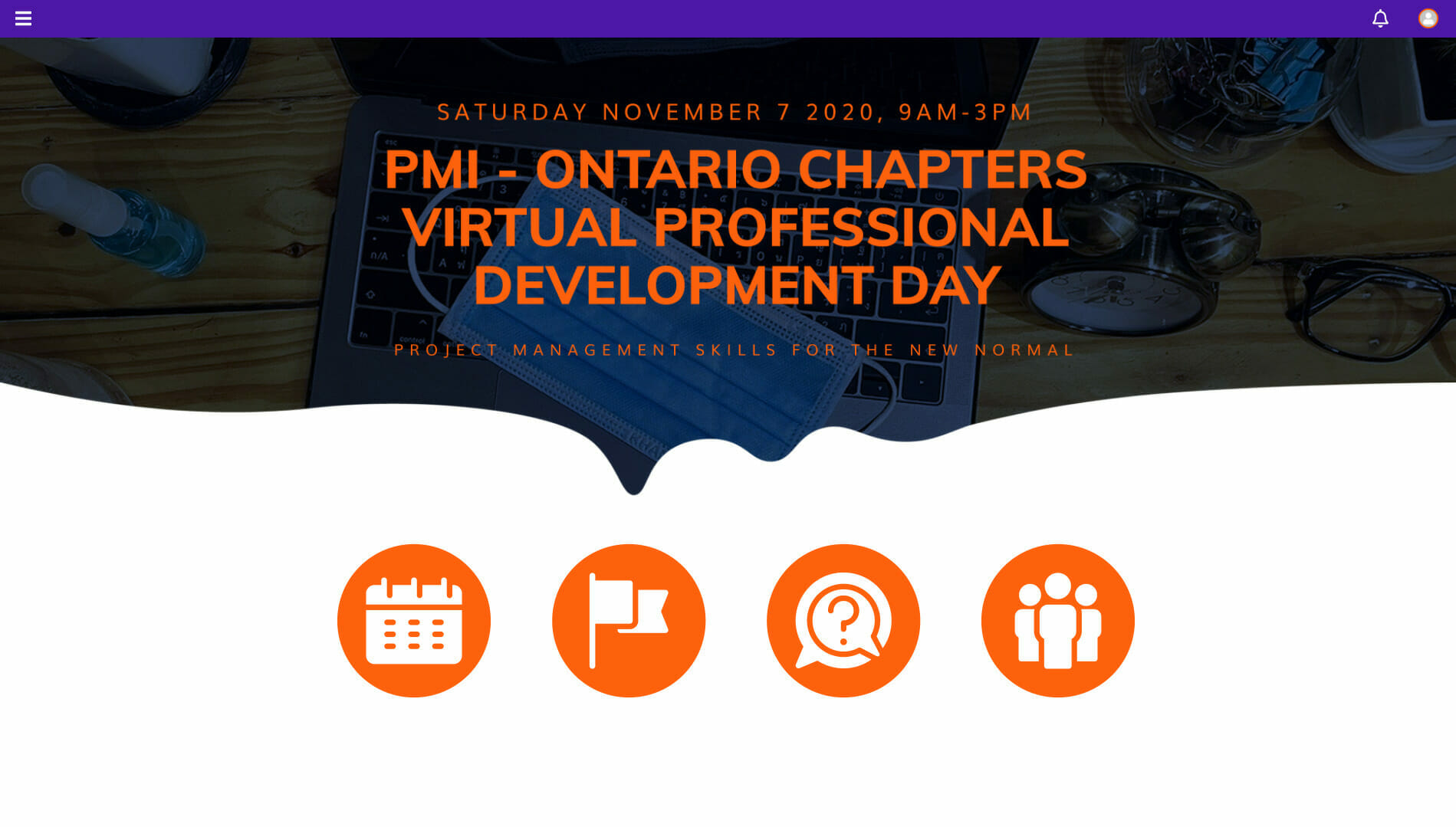 Event: Virtual Professional Development Day
Customer: PMI – Ontario Chapters
Why We Love This Design: Consistent use of brand colors across the virtual conference platform, strong color contrasts and dynamic lines create visual interest
Event: 20th Anniversary Alumni Summit
Customer: Students on Ice
Why We Love This Design: The beautiful background image highlights the event's theme of environmental awareness
Ready to see more? Book your 1:1 demo today for a personalized tour of EventMobi's Virtual Space!
Event: Studio20 – Engaging Learners Online
Customer: BCcampus
Why We Love This Design: Strong, bold design through minimal use of color, icons in a hand-drawn style adding an element of fun, and clever use of an animated GIF as a banner to showcase rotating speakers
Event: RELIT! 2020
Customer: RELIT!
Why We Love This Design: Combining colorful and black & white elements as well as playing with different shapes creates visual interest, and the bright yellows and pinks create a warm and inviting atmosphere
Event: Congreso Virtual
Customer: SOMETH
Why We Love This Design: Bright, vivid colors and a consistent widget design using different images and colors for visual interest
Event: 2020 Virtual Annual Meeting
Customer: Texas Taxpayers and Research Association
Why We Love This Design: Consistent use of brand colors on every page and a background image illustrating the themes of networking and connection
Ready to find out how EventMobi's Virtual Conference Platform can help you create great online experiences? Watch our product tour now!