A Lead Capture App That Simplifies Event Lead Management
Say goodbye to business cards and sign-up forms on the show floor. EventMobi's Lead Capture App is the only lead retrieval solution that is lightning fast, intuitive, and easy to use:
Download the lead retrieval app onto any mobile device
Scan the QR code on the attendee's mobile event app profile or physical badge to capture their information
Review and add additional details for leads on the spot
Export lead information for easy import into any CRM
Offer Lead Capture to Increase Revenue From Your Events
Enhance the value of your event by empowering exhibitors with easy ways to capture new leads. With a quick scan, they can gather all the important details of any attendee.
Add Lead Capture to your sponsorship packages to drive additional revenue
Offer tiered levels of access by capping how many onsite staff can be added
Now, exhibitors can capture, score, and follow up with potential buyers quickly and efficiently
Learn How to Create a Sponsorship Strategy That Maximizes Event Revenue
A Lead Capture System in the Same Place You Manage Your Events
Choose EventMobi's Event Management Platform and lead retrieval app for trade shows and conferences, and manage your event and exhibitor lead retrieval from a single, powerful system.
Build and manage your events in EventMobi's all-in-one event platform
You control exhibitor & staff access to the Lead Capture App
Exhibitors self-manage adding staff and lead qualifiers
Staff capture leads at events by scanning digital or physical attendee badges
Exhibitors can then easily view and export leads captured at your event
Simplify Lead Collection With the Best Lead Capture App
One Platform for Your Event & Leads
EventMobi's trade show Lead Capture App lets sponsors collect, score, and follow up with leads in EventMobi's all-in-one event platform, eliminating the need to work with multiple vendors.
Lead Capture Access With One Click
Enable access to lead retrieval for sponsor company admins with a single click, and they can self-manage granting show floor staff access to lead capture through the Exhibitor Portal.
Lead qualifying is easy with EventMobi's Lead Capture solution as exhibitors can add star ratings, additional notes and complete any required custom fields set up by sponsor company admins pre-event.
EventMobi's conference Lead Capture App keeps lead data secure in the app and cloud backups, and sponsors can easily add all the details they need to follow up effectively post-event.
All the Technology You Need
Exhibitors and sponsors can use their own mobile device for lead scanning—EventMobi's mobile lead capture and badge scanner works on both iOS and Android.
Exhibitors and sponsors evaluate your event based on how many leads they can capture. EventMobi's lead capture system makes it easy for sponsors to see the value of your event.
Self-Managed Lead Retrieval for Your Sponsor Companies
Make lead retrieval seamless for event exhibitors. Your sponsors and exhibitors can grant access to EventMobi's Lead Capture App to as many onsite staff as you permit, who can then:
Download the

EventMobi Lead Capture App for iOS

or

Android

Use their mobile device to scan QR codes on attendee badges

Capture lead details and answer qualifying questions within the app

Automatically upload and store lead details in the Company Portal

Easily sort, qualify, export, and share lead information
It really is that easy!
Learn 3 Ways to Attract Sponsors and Exhibitors for Your Next Event
Collect Leads Quickly, at any Event with Exhibitor Lead Capture
EventMobi's lead retrieval technology is the perfect tool for any event with the goal of connecting attendees or members with relevant sponsors:
Trade shows
Expos
Annual Conferences
Conventions
Hosted Buyers
Bring the ROI of your next event to new heights with EventMobi's event lead management technology.
Promote Your Event Sponsors Across Your Registration Website
Your Event Registration Website offers exciting opportunities to drive brand awareness and engagement with your sponsors from the moment it goes live.

Download the Sponsorship Strategy Guide to learn how to create, package, and price sponsorship assets for your in-person, virtual and hybrid events.
Download the Free Sponsorship Strategy Guide
Help Your Exhibitors Get More Out of Your Event
Event Management Platform By EventMobi
Use the most customizable event management software. EventMobi offers everything you need to create an incredible event or meeting.
Learn More
Event Apps
Show them everything, exactly how you want it.  With Eventmobi Event Apps, you can create an accessible, custom, feature-rich experience for your guests.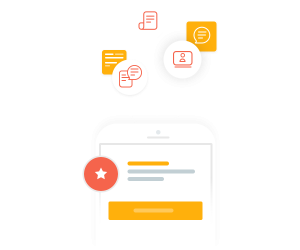 Learn More