Designing Great Events: Tips from CSE Live
Being an Event Coordinator with the huge responsibility of designing great events is one of the most stressful jobs one can have. It comes right after being a firefighter, police officer, or military personnel. And after attending CSE Live (which is where I also happened to learn that aforementioned fact) I got to see why.
As a Project Manager on the Professional Services team at EventMobi, I work one-on-one with our clients in order to deliver a great event experience through the use of our technology. Whether it's setting detailed timelines, designing app content, or providing strategies to drive event engagement with the app, I'm in constant contact with clients from the very first introductory kickoff meeting to when their event ends.
Because of this tight client relationship, I'm fortunate to be able to get a closer look at the overall design of their events than your typical vendor or support staff. However, there's still so much more that goes into designing great events than making sure that the event technology is solid.
About CSE Live
CSE(Canadian Special Events) Live is a conference for planners, vendors, and other professionals in the events industry to network and share ideas on the work they do. Prominent names in the industry such as Julius Solaris, editor of the Event Manager Blog, come to CSE Live to speak about future trends, share insights, and stimulate discussion on designing great events.
It's hugely valuable for anyone working in the events industry, so when I was presented with the opportunity to attend CSE Live 2018, there's no way I could have given it up. Not only was I able to attend presentations by seasoned event professionals, I got to see those strategies put into practice by the organizers of CSE Live themselves. At an event for event planners, you can expect every detail to be viewed and scrutinized by an expert eye — something I saw in action from watching my manager, whom I attended the event with.
Tips on Designing Great Events
Your event's physical design has a clear and conspicuous effect on your attendee's experience. But there are also intangible ways that you can set up your event to ease your attendees into having a great time and keep them engaged from beginning to end.
Save Some Trees and Skip the Paper Agenda
When I arrived on the second day, the first thing that stuck out to me was that there wasn't a paper program handed to me after I was given my badge (which was great because it meant I had fewer things to carry and keep track of!).
Putting your event content in an event app makes it easily accessible to your attendees on their phones (which they will definitely not lose, as opposed to a paper program). Plus, it allows for better wayfinding if you've implemented a mapping feature, especially if it's interactive and responsive to your actual location.
Recommended Read: Learn how to increase event app adoption and usage in this comprehensive guide.
Let Your Event Space Guide Your Design
After checking in, I heard a faint noise coming from further down the hall. A staff member confirmed my suspicions – it turned out that there were no specific rooms where the presentations were taking place. Following the sounds down the hall led me to an open space where the presentation stage was set up.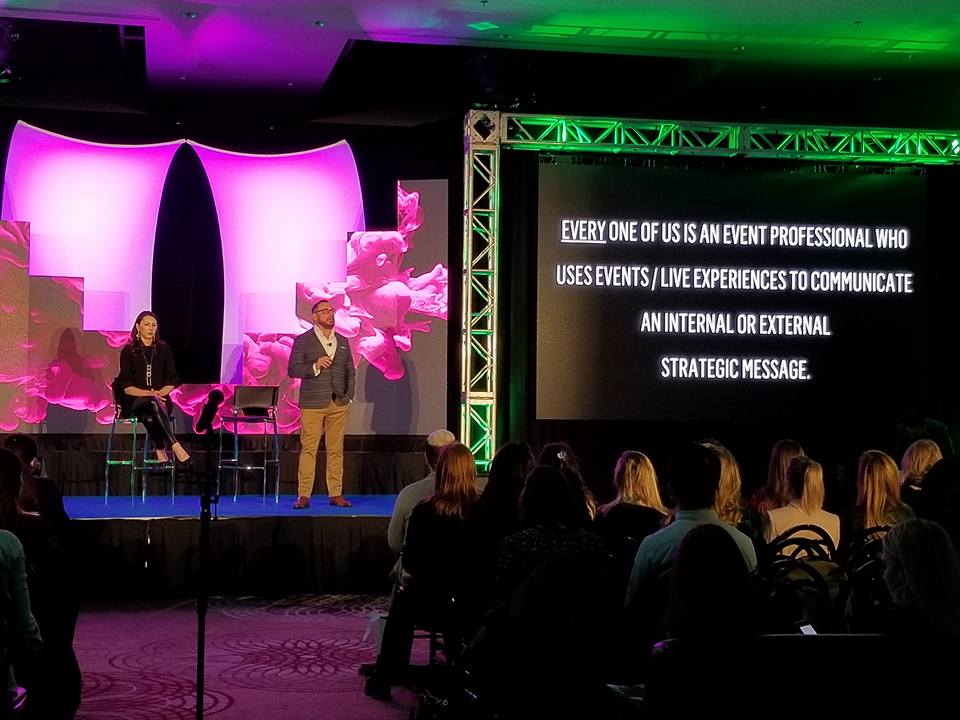 Now this was something I'd never seen before! Rather than have attendees looking for a room, the setup of the venue led them down to the main session area. The path and the acoustics of the hall naturally told us where we needed to go. And for an event with a linear schedule, this was especially effective. There was no need to include a program with room locations and maps when where you needed to go was clear as soon as you arrived.
Note that if you were to use your event space in this kind of way, I'd highly recommend that signage, whether print or digital, be as clear and informative as possible so that attendees aren't confused about where to go. Adding other areas like a trade show floor might create more uncertainty, if not clearly outlined and communicated to your guests.
Never Underestimate a Comfy Couch
All of the talks during CSE Live were insightful and tackled various aspects of special events planning. To keep the energy and interest up, the CSE events team did a fantastic job designing a unique seating plan for the audience. No doubt it helped enable discussions. In lieu of the usual row-by-row lecture style seating, CSE mixed it up by adding in small couches and bar stool-style seating. It created a more comfortable and communal setting where attendees could be more than just attendees to one another; it felt like you could turn to your right and really meet your fellow industry colleagues.
It also facilitated the connection between speaker and audience. Due to the unique arrangement of the seats, speakers could move around the audience and change up their position throughout the presentation to engage every part of the room. During the keynote presentation, Julius Solaris from Event Manager Blog did exactly this and coincidentally even mentioned switching up seating styles to make your event design unique!
Additional Design Elements to Consider
While the seating arrangements were great, there was definitely room to incorporate other design elements that would have increased attendee engagement and discussions.
Based on client experiences, using a tool like live polling has been shown to create a more interactive experience that makes sessions more memorable and fun for attendees.
At many events, it's still common for the Q&A session to involve passing around a microphone or having attendees walk up to a microphone to ask their questions. And speakers tend to poll the audience by a show of hands. These are simple techniques that work, but there's so much more opportunity to breathe life into these experiences.
For Q&A sessions, a unique solution that our clients have found useful is the Ask a Question feature, where audience members can enter questions into the mobile event app and add their vote to other attendees' questions for the presenter to answer. This allows for everyone to have their voice heard, and removes any social barriers that might come from posing a question during a talk.
Another idea for speakers is to use technology that makes audience polling quicker and more engaging. Many clients are a fan of the Live Polling option in EventMobi's mobile app. It allows for quick responses and a visual breakdown of the responses that can be shown on the presenter's screen. In the end, a collaboration between the speakers and the planning team would be instrumental in choosing the best strategy and combination of technologies to get audiences participating in the conversation.
Conclusion
Overall, CSE Live was as valuable as I had anticipated. Listening to industry veterans and participating in breakout discussions with other planners painted a clearer picture for me on the trajectory of the events industry and what planners are thinking in response to that. Many of CSE's choices in the event design had great results on the attendee experience.
It's often at the top of my mind that the mission of the Professional Services team at EventMobi is to make the lives of our clients easier, and the knowledge gained from conferences like CSE Live will make us that much better in delivering empathy and high-quality customer experiences. The assistance, tips, and strategies provided by our support team is just as crucial as our event tech in lessening the load for planners, allowing them to think less about the technical details and focus more on designing great events with a better attendee experience.
There's nothing like the buzz of an event to make attendees feel excited and engaged. But how do you keep that buzz alive and strong? That's where building an event community comes into play.

This eBook will teach you best practices on how to create and continue building an event community year-round.