11 Breakthrough Ways to Increase Your Sponsorship with Event Apps
A common trait among successful event professionals is their ability to stay abreast of industry trends and advancements. If you're reading this article right now, chances are you are one of these people. And if you've been following this series or have read the Ultimate Guide to Event App Sponsorship, you have hopefully gained a better understanding of how profitable and effective event app sponsorship can be. Now that you know how to devise a strategy, create a compelling sponsorship package, and advertise your app successfully, it's time to focus on some opportunities on your mobile event app that you may not even have considered.
Today we'll be discussing unknown unknowns of event app sponsorship – the things that you aren't prepared for, simply because you've never considered the possibility of their existence. When they stay hidden, they present a significant risk of blindsiding you in your decision-making. However, we're sure you'd prefer to think positively. The upside of unknown unknowns is that they can present a significant opportunity for improvement and innovation if you become aware of them. So let's get creative and uncover some of these secrets to event app sponsorship that you're missing out on!
1. There's No Place Like Home
If real estate is all about "location, location, location" then, in the landscape of your event app, your home page is Fifth Avenue. Every event app will have a home screen that contains essential information such as maps, speakers, and an agenda. It serves as a central hub through which all attendees are funneled when they open the conference app. This provides an unmatched opportunity for impressions and event app sponsorship. Try placing your main sponsor's logo on the home screen to ensure that every person who accesses your conference app will see it.
To sweeten the deal, you can even feature your sponsor's logo and other branding on the loading screen, where there is even less content to compete for the attention of your attendees.
2. Give "Marquee Sponsor" A Whole New Meaning with Event App Sponsorship
On-screen banner ads are the meat and potatoes of mobile advertising. Whether they are static or rotating, you can use banner ads to link to a sponsor's profile, website, or promotions. You can even create a custom-designed image and message that pops up with every click-through. Their dynamic applications allow you to be creative, matching banner ad locations, formats, and messaging to fit the needs of your sponsors.
For optimal event app sponsorship, ensure that banners are placed at strategic focal points throughout the app, such as the top of the menu, the bottom of a speakers page, or any other area that sees high attendee traffic. The choice of how many banner ads to include depends on whether you opted for an exclusive sponsorship or shared sponsorship strategy. For example, you can give a single proportionately more screentime by adding duplicates of their banner ads into the rotation. In general, it is advisable to keep the number of unique banner ads below five, to avoid watering down the exposure that each one receives.
3. Give Your Sponsors A Voice
An in-app alert feature, such as EventMobi's Direct Notification, can be very useful for sending time-sensitive information and calls to action to targeted groups of attendees. With a bit of imagination, you can find numerous ways to generate additional revenue and exposure for your sponsors.
For example, your technology sponsor can send a targeted push notification to everyone attending technology-specific sessions in order to drive qualified traffic to a booth. In-app alerts are great for event app sponsorship at any stage of your sponsor's event marketing campaign. They can open the door to a conversation by piquing attendee curiosity or close a well-integrated advertising push by enticing people with incentives to register or to order at a booth. Intelligent, well-planned, and timely direct notifications give your sponsor the advantage of targeting more qualified prospects, and they will ensure that attendees acknowledge and engage with your sponsor's brand.
4. Your Sponsor Marks The Spot
EventMobi has been to a lot of conferences, and time after time, attendees tell us that a powerful, easy-to-use map is one of the most important and often-used features; indeed, they are consistently 1 of the top 5 most-used features of our apps. At some point or another, each of your attendees will need directions. By placing your sponsor branding on your maps page, you increase the chances that their next move will be in your sponsor's direction.
It is best to place your sponsor logo near the title area of the map, in an eye-catching location that doesn't interfere with the functionality of the map. Additionally, you can work with your sponsor to highlight and label their booth on the map to make it easier to find.
When it comes time to go through your event app analytics, remember to check the number of times attendees accessed your map; that's also the number of times attendees saw your sponsor's logo.
5. Big Data, Bigger Opportunities with Event App Sponsorship
Another great feature in many event apps is the ability for attendees to favorite sessions and exhibitors. This benefits them when they want to keep track of what to attend, but it also has significant value for your sponsors. Attendees will add sessions to their favorites and their schedule according to their interests. With the option to export favorite session lists, you can give sponsors access to a valuable list of attendees and their interests, which they can use to send promotional material to follow up with those attendees.
You can also harness the power of analytics for your own use as an event planner. With the complete control you get from an event app, you decide how to use the data you collect. Here's a word to the wise: if you do plan to use the data from your event app to help sponsors generate leads, ensure that your privacy policy is structured to support this.
6. Email Sponsorship
With an event app, your attendees can customize their experience. They can create personalized schedules depending on which sessions they want to attend, save sponsors and exhibitors of interest to their favorites, make and engage with contacts through private in-app chat, and take notes on sessions. When the event is finished, they can use EventMobi's quick export function to send all their personalized elements and content in a single compact email straight to their inbox.
By tweaking the pre-built email template, you can add your sponsor's logo to any emails attendees send to themselves, delivering a crucial impression at one of the final touch points of your event creating an effective place for event app sponsorship.
Another creative way to increase impressions from a captive audience is to email attendees before the event to invite them to access the app and fill out their attendee profile. By including a message from one of your sponsor's reps in the email with a link to their attendee profile on the event app, you can allow your sponsors to be part of the personal experience of customization.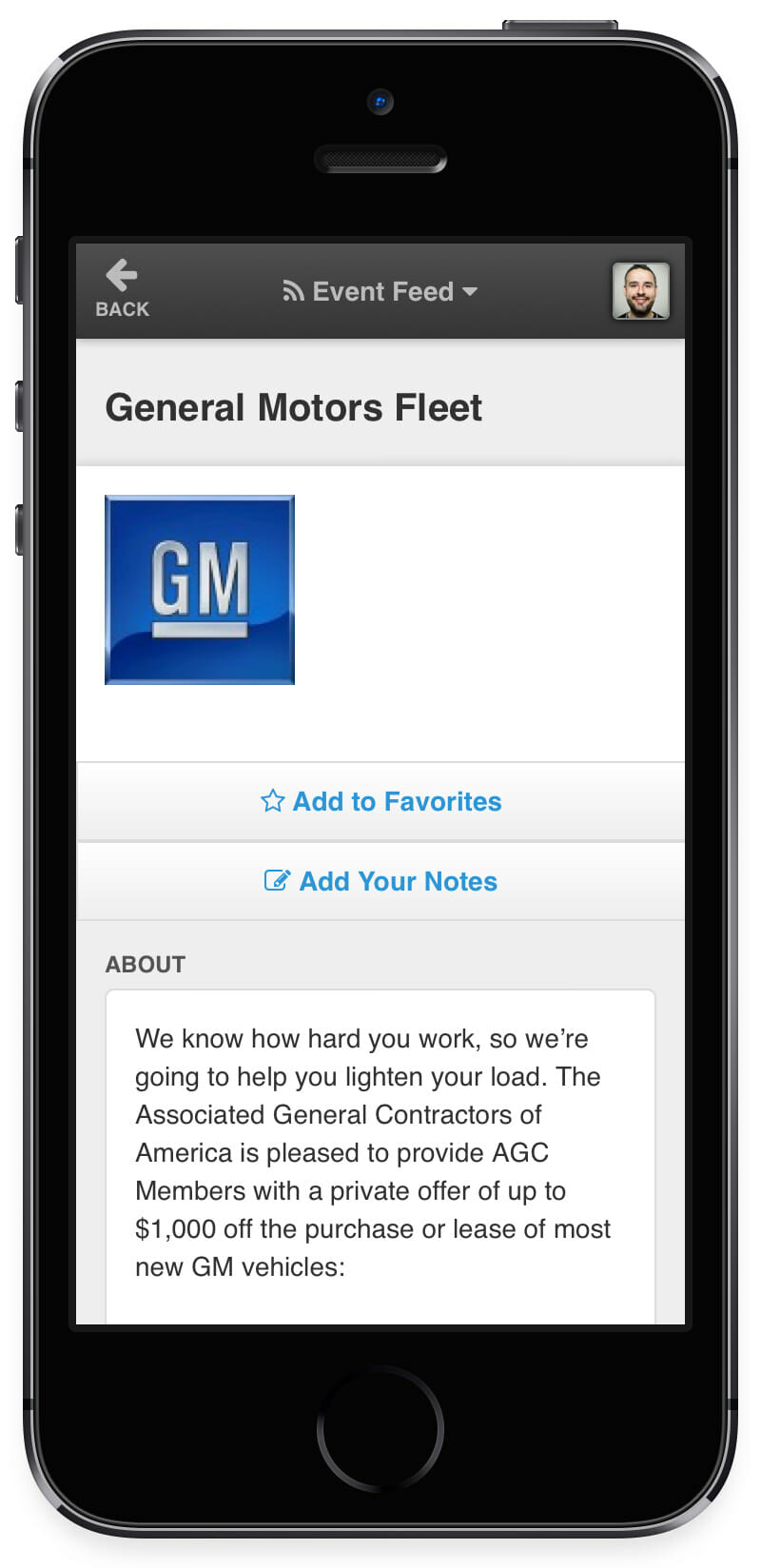 7. Exhibit Your Commitment
For exhibitors, getting lost in the crowd at an event is a major concern and they will be on the lookout for ways to differentiate themselves from all of the other booths at your venue. Reward your higher-tier exhibitors by offering enhancement packages that allow them to stand out in your exhibitor listing.
There are several features available on your event app that you can use to highlight your premium exhibitors. A customized ribbon can draw attention and visually separate a top-tier exhibitor from the rest. With the ability to manually sort exhibitors, you can also place your top exhibitors at the top of the list. The average mobile user spends just 3-5 seconds scanning a page before deciding what to do next, so the higher up your exhibitor is on the list, the more impressions they will get and the higher quality their impressions will be.
In addition to adding visual distinction to your top exhibitors in the listing, you can heat up the prospective leads when people tap-through to their profiles by offering profile-enhancements, including sponsor logos, richer graphics, social media links, and attached resources. Resources can include product presentations, PDF brochures, inventory lists, flyers, and videos. Exhibitors can even distribute in-app coupons and discount codes, which have been a hit at many consumer shows.
Aside from features that can offer certain exhibitors a competitive edge, there are several ways that an event app sponsorship can benefit all of your exhibitors. A good mobile event app tracks how many times your attendees have viewed exhibitor profiles, providing them with tangible results and demonstrating ROI post-event.
In addition, your exhibitor can expect to save on printing costs, especially if they have many materials to share with attendees. As an event planner, you can also expect to save on materials that you would have normally printed, such as event programs. As if having more cost-efficient sponsorship dollars weren't enough of a reason to go mobile, both you and your exhibitor are also helping the environment. In fact, distributing material through an event app is a major way for exhibitors to substantiate their commitment to environmental friendliness.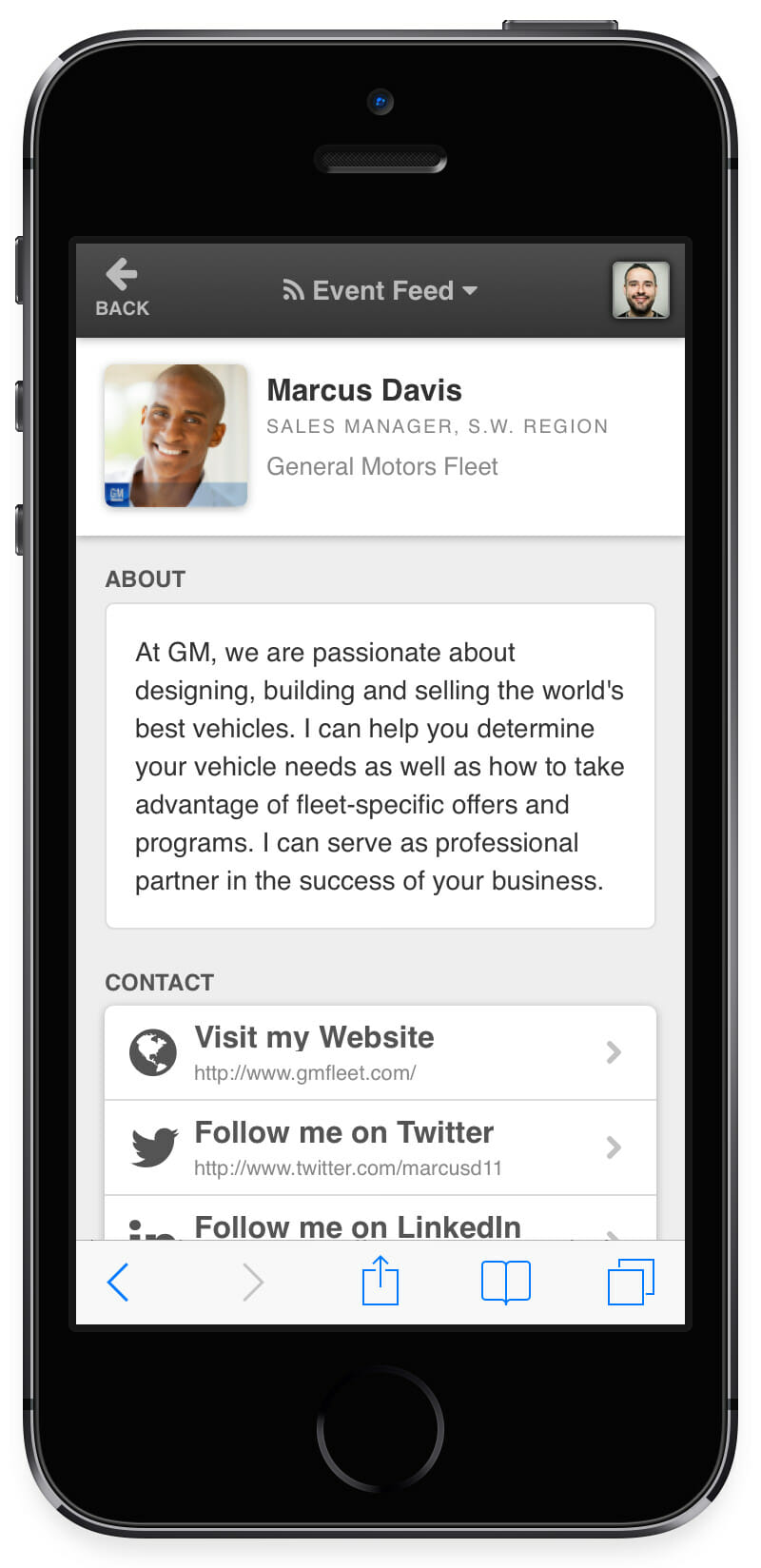 8. Personalize Sponsor Conversations
EventMobi's robust Attendee Networking feature allows attendees to customize and manage their own profiles, including social media links, profile pictures, personal interests, professional titles, and anything else they want to include. Attendees are able to view each others' profiles and begin networking before the event has even started.
With a private in-app chat feature, attendees can engage in one-on-one discussion. By selecting Send a Message while browsing a profile, an attendee can open a private chat box to converse directly within the event app without having to disclose any personal information. Both attendees' information is kept private with security features that prevent emails or phone numbers from being shared.
It's never been easier to spark conversations that last before, during, and long after your event. For a price, sponsors can take advantage of this feature by creating their own profiles. Good practice for sponsors is to associate their on-site team with the brand by overlaying the company logo over their profile pictures so attendees can easily identify them.
9. Data-Driven Engagement with Event App Sponsorship
With live polling, you can poll the audience during a session and project their answers on a large screen. This is a great way to supply content for an interactive session or get attendees to submit questions to a speaker without that awkward question-repeat for people in the back. Attendees love to see the results of their feedback, and live tallies can be great attention grabbers. A sponsored poll that shows off your sponsor's branding can be an immensely effective way to generate goodwill and attention. On the big screen, your sponsors are one step closer to achieving top-of-mind awareness with your attendees.
For data-driven marketing, there's nothing better than a collection of attendees whose profiles match those of their target segment. With the right questions, sponsored polls and surveys can present an unparalleled opportunity to collect relevant information from attendee profiles. Polls can even be used to plant a question in attendees' minds, priming them for new conversations and opportunities.
Surveys are another great way to obtain valuable data while letting attendees, who love to share opinions, engage with your sponsor brands. To encourage participation and engagement, surveys can even be gamified by providing points, prizes, and other forms of recognition. In terms of lead generation, an engaged attendee is one step closer to being a qualified lead, but remember to be clear in your messaging to attendees that your survey is a sponsored survey so that they are not confused about the contest.
10. Your Attendees' Turn
Sponsors can take data collection to the next level by developing surveys with multiple questions for target attendees. Attendees love to share opinions, and surveys provide a great way to engage them with brands. Surveys can even be gamified to encourage participation and engagement. By providing points, prizes and other forms of recognition, sponsors can encourage attendees to enter details. From a lead generation perspective, an engaged attendee is also one step closer to being a qualified lead for sponsors. Remember to be clear in your messaging to attendees by indicating that your survey is a Sponsored Survey so that they are not confused about the contest.
11. Using Gamification for Event App Sponsorship
Speaking of gamification, increasing the entertainment factor at your next event is one more way to help your sponsors stand out. Gamification is all about applying gaming concepts and game mechanics (such as points, achievements, and leaderboards) to non-game environments such as event registration.
Encourage attendees to register early by rewarding points to those who register before a certain date. Points may be redeemed for sponsored prizes, bragging rights on the leaderboard, or brownie points. For sponsors, you can create a challenge that attributes points to every correct answer in a quiz about their products. Using a check-in challenge, you can drive traffic to your exhibitor and sponsor booths as attendees try to check into as many locations as possible and display the best-traveled attendees on a leaderboard.
You can also attach premium value to certain top sponsors by allocating more points. For example, while other challenges in your event game might be worth 10 points each, a challenge that engages attendees in conversation with top-tier sponsors might be worth 50 points. Awarding attendees for tweeting or sharing their favorite part of a sponsor's new product incentivizes them to interact with your sponsor proactively and more attentively, generating more qualified leads.
BONUS TIP: Nobody Knows It All
There you have it – 11 secrets of event app sponsorship that you might not have known. Implementing these ideas should help you to leverage the wealth of in-app features to bolster your sponsorship packages and guarantee a high ROI. But that's not all! Event apps are flexible and there are tons of opportunities to create value within the app left to discover. Play around with features and don't be afraid to get creative. The most important secret of all is that there are an infinite number of ways to create value with an event app.
Conclusion
You may have noticed that all of these ideas are re-purposed ways of using an existing app feature, and you can find even more in our Ultimate Guide to Event App Sponsorship. To stay updated on the latest conference app sponsorship tips, subscribe to our blog.
Use these ideas to inspire you and your own sponsorship packages; you'll likely find even better ways to make use of event app technology in your own events. That's the beauty of unknown unknowns: the more of them you uncover, the more options at your disposal and the more creative you can become!